I entered the contest at
Sports Card Info
for this little guy: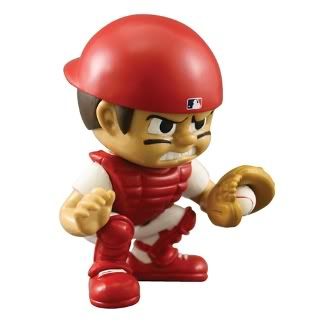 Obviously, I won! Would I be making this post if I hadn't? The figure arrived recently and is now guarding my printer/scanner, blocking any would-be runners from sliding into the paper tray. He'll join me on my trip across the Pacific as a little trinket to remind me of America! I'm also bringing a small selection of baseball cards. Now, I just need an SF MUNI transit map and a picture of Elisha Cuthbert. I guess I can print the picture of Elisha myself. Ahh, reminders of home. Thanks Ross at
Sports Card Info
! The figure looks even better in person than on the scan.
I want more!
Too bad they don't come in Giants, Braves, Tigers, or A's versions, or position players.
Now, some contest/game/sports-related videos.
That woman won at the game of life.
This race winner caused a fail.
Speaking of winning races... That camel is hi-lar-i-ous.