BBM's first 2019 set was released in late 2018. American card collectors might understand this concept, since manufacturers rushed to release the first sets with the prior year's stats as quickly as possible. I remember finding cards with prior-year statistics before Christmas in the 1990s. Of course, a lot of that changed around 2006 or so, when the MLB started setting some rules on card releases.
These days, the year's first release is a flagship - 2019 Topps came out recently, and 2019 Donruss will be out soon. Some manufacturers (Leaf, mainly) seem to issue some sets into the next year; there are still some "release-pending" 2018 issues six months into 2019.
But in Japan, BBM issues its first 2019 sets long before its flagship. Both this set and Glory came out before New Years, the annual retirement set came out this month, and Rookie Edition is either out now or will be out very soon. In fact, a couple of BBM's team sets might be released before the flagship First Version.
Time Travel focuses on a particular year in the past; if you haven't guessed from the title, the 2019 set goes back 40 years to 1979. This is BBM's only "throwback" set.
I really look forward to this set every year, mainly because of the throwback design and the inclusion of some pop culture references. It's a nice replacement for the Historic Collection sets BBM used to do. And it must be pretty popular, as it is always a bit difficult finding a full set at a reasonable price.
Moving on to inserts, we get to the Title Holders series.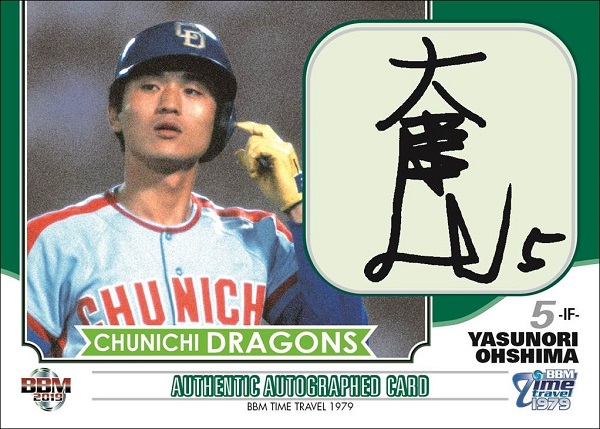 The only premium insert in this release are autographs. Those are #/90 or less. I don't have a copy of one yet for my collection, so the above photo is a promotional image from BBM.