This isn't a wish for peace, or end to hunger, injustice, or disease. Those things go without saying. This is a real wish list.
Turkey Day is over. It's Black Friday. Some of you have been shopping for hours by the time this post goes live. And Black Friday means only one thing: Christmas wish lists.
If you know what's good for you, you won't hit play.
I remember when I was a teenager and asked for my wish list, I usually wanted money. But every year, I put "VW Beetle" on the list. I wanted to create my own Herbie. There would be some form of technology, such as a new laptop, camera, or camcorder. But this isn't about the general stuff I want for Christmas (which, due to my upcoming move to Japan, is short and unlikely: HD video camera, professional-quality camera, nice, new laptop, and a fistful of yen).
No, this is my hobby wish list. This is more than my "Most Wanted" list (linked to the side). That list is sensible, based on finishing my sets. This is a list of the cards that would be the showcase of my collection. It's not about high value, usually, though cost makes a big factor in the fact that I don't have one already.
10. 1952 Topps set
It's
the
set to own. No set collector's collection is complete without one, so it has to appear on this list. Will I ever have a 1952 Topps set? Maybe. Would it be the favorite part of my collection? No, but I would be proud to say I have one, in any condition.
9. Shawn Johnson autograph from Allen & Ginter
This is one of those "difficult" autographs to find in 2010 Allen & Ginter. I have the relic, but this certified autograph would be a big part of my Women In Sports collection.
8. autographs of Elisha Cuthbert and Zooey Deschanel
Neither actress has a certified autograph yet (except, perhaps, a cut autograph), but hopefully they'll sign in the future for somebody. Elisha has a couple relic cards from the TV show
24
, but Zooey has nothing to date. I've never seen
24
, but I've followed Elisha's career from
Popular Mechanics for Kids
and
Are You Afraid of the Dark?
to
The Girl Next Door
(above) and
Happy Endings
. Zooey caught my eye as William Miller's rebellious sister in
Almost Famous
(my favorite movie), and now I watch her weekly on
New Girl
.
7. autographs of Robin Williams and Tom Hanks
As with the actresses above, these two have no certified autographs. I believe both have relic cards in Pop Century. Both have distinguished acting careers spanning four decades or more. I enjoy Robin Williams more for his early stand-up than his acting, but I love watching
Big
, and some of the other 1980s movies Hanks was in before he went all serious. And who could forget
A League of Their Own
?
6. A truly "sick" patch card
I don't think it gets any sicker than that. But any really awesome massive patch card would be great to have in my collection. Or perhaps a 1/1 MLB logo patch. That would do the trick.
5. Sasha Cohen autograph
Cohen is another female athlete whose autograph belongs in my collection. This would be the card of choice, though her World of Sports autograph is much cheaper. I've seen Sasha skate live twice.
4. This Scarlett Johansson card
Yeah, I'll take that. As with Shawn Johnson and Elisha Cuthbert, I have a Scarlett Johansson relic or two in my collection already, but this certified autograph would trump those instantly.
3. Albert Pujols autograph
He may not have had the best postseason, but Pujols is still the best player on the field. I'd take him at first base any day. His work ethic and drive is amazing. I don't need a signed card - a ball, jersey, lithograph, or photograph will suffice!
2. Ichiro autograph
Ichiro just does not sign very many autographs. I'm not sure why I like him so much. He's a great player, but there are plenty of others as deserving based on his accomplishments. I think it might have something to do with his performance in MLB 2003 on my team. I hold a special place in my heart for all the players on my little All-Star team.
1. Nolan Ryan rookie card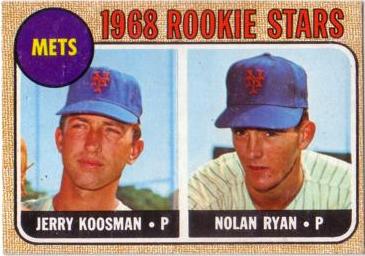 I've mentioned before that this card has been at the top of my want list for more than 20 years. Some day I will finally take the plunge and buy one. Nolan Ryan was my first hero, so I'm surprised I have yet to buy this '68 Topps card. Maybe it's the fact that I've never spent more than $50 on a single card, and that was my Nolan Ryan autographed card.
While writing this post, I just saw this trailer.
Wow. Wish list item for next year? Can we give this to Joss Whedon so he can make Buffy the Zombie Slayer? Is there a live-action movie planned? That was too awesome. I have to watch it again.