Day 28: A favorite relic/manufactured relic card
Oddly enough, this is kind of difficult.
As a pop culture enthusiast, a large part of my "personal" collection is focused on entertainment autographs and relics. And over the years, I've put together what I feel is a pretty impressive collection of my favorite actors and actresses. No, you won't find Robin Williams or Tom Hanks autographs, unfortunately. But I do have a relic card with Jennifer Garner's latex dress from Alias. And Levar Burton and Bruce Campbell's autographs. And dozens more relics and autographs.
I have some beautiful patches, too. When Playoff/Donruss lost their MLB license in 2005, they dumped some awesome swatches in their packs, and I've grabbed a few nice ones. Regardless of the subject on the card, if it's a unique item I'm interested in having it in my collection.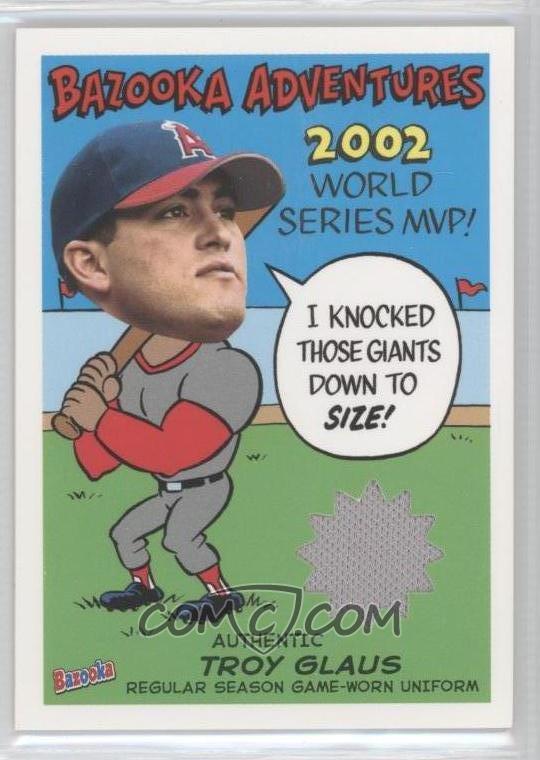 I've finished one relic set, and I started it just by chance. I came across a bunch of the Japanese team relic cards from an Upper Deck USA release a couple years ago, and used COMC and a little luck here in Japan to finish the set inexpensively. There are a couple other relic sets I enjoy: Bazooka Adventures and Fun Facts relic sets, and the Currency Connection coin sets from Topps Gallery. I'm chasing Adventures and Fun Facts, but I'm not actively searching for Currency Connection cards due to their price.
My player collection has relics, too. Some are easier to find than others; Pujols has lots of swatches out there, while Julio Franco does not. The rarer ones are sometimes more treasured because of the effort it took for me to obtain it. I'm happy to have all of them in my collection, too.
As far as manu-patches go, they're cool, but overpriced. I tried to collect some of the manu-patch sets from around 2004 (Sweet Spot, UD Patch Collection) but had to give that up because of cost.
I guess I could show you more of my "awesome" relic cards, but they're all in the US. In fact, if you're wondering why so many of my card images have come from COMC, it's for that same reason. The majority of my collection is in America. So, thanks, COMC, for letting me use your images... of my cards and others'.