Day 12: One of your favorite cards from the 1980s
The 1980s are full of oddball issues. This is the decade where food issues and one-off sets were the norm. ASA made all kinds of sets early in the 1980s. TCMA put out a bunch of stuff. Later in the decade, Star issued dozens of single-player small sets. Well, they started early, but by the late '80s they were issuing tons of sets each year. Coins came with Slurpees (mmm, frozen sodas), and browsing the cereal aisle in the summer would always turn up at least one box with cards on the back.
While they aren't the most visually attractive sets, TCMA's issues put many historical legends on cardboard for the first time, or at least made them accessible to collectors. They're a great motivator for learning about some of baseballs historically great teams, many of which have been forgotten to the Yankees dynasties or simply time itself.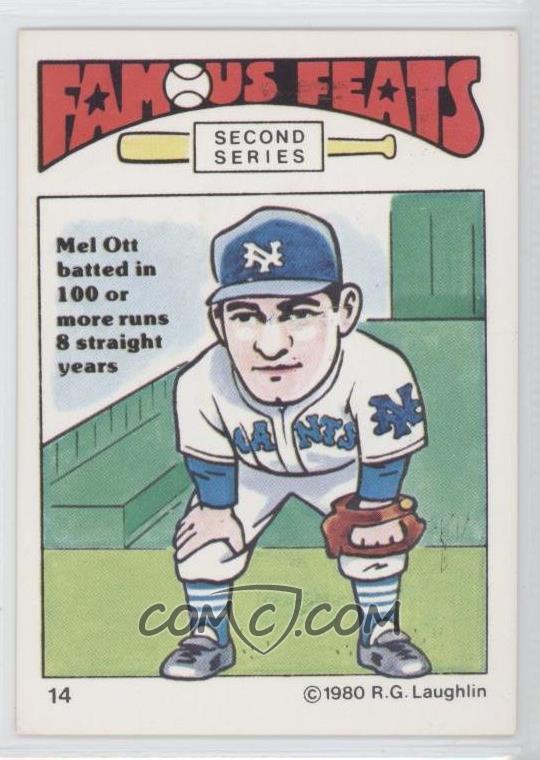 I don't have any specifically "favorite" cards from this decade, unless I dive into the player collections, but you've seen many of those already. But now is a great time to feature more art - the 1980 Laughlin Famous Feats set. The Mel Ott above is from the second series, and is blank-backed. I like Laughlin sets, with their cartoon images and interesting topics.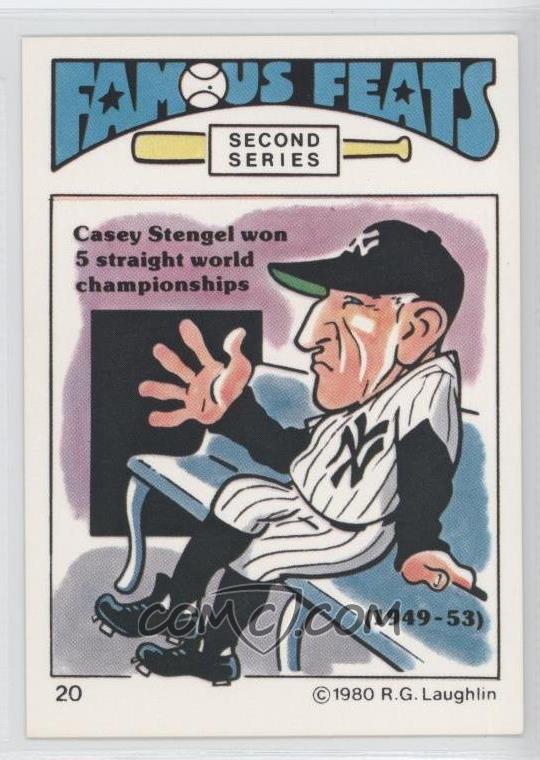 The Casey Stengel may have the best image, but Ott is the only card I have from this set. Really, it's discovering oddball sets like this that really drive my interest in my type collection, even if the bulk of what I have is modern day cards.