Day 18: A card of a player who became manager of your favorite team
Meet Bobbly Cox. Bobbly Cox is the newest bobblehead in my collection. Bobbly Cox is done in the likeness of Bobby Cox, the Hall of Fame manager of one of my favorite teams.
Without any intention for today's post, I picked this up
today
from a secondhand shop. I didn't notice the little label on the box, but it turns out that the little Hall of Fame plaque at the bottom had broken off. Someone must have tried gluing it back together, and it broke again. A few drops of superglue later, and we'll see how well it holds going forward.
Bobby Cox isn't a player I collect, yet. But now that I have this bobblehead, I'll eventually get to making a collection of his managerial and playing day career.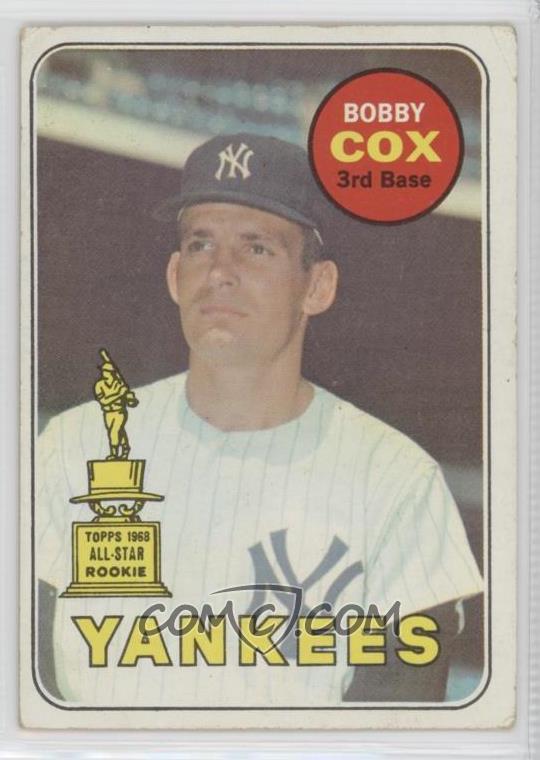 Speaking of which, Bobby didn't see much action on the field until he was in charge. He played some third base for the Yankees in the late 1960s, but had bad knees so basically gave that up. He also played a few years in the Venezuelan Winter League. With very little playing time, he has only one mainstream card: his 1969 Topps card. I don't have it yet; I do have plenty of Cox from his managerial career scattered throughout my collection though. I find it interesting that Cox was an All-Star rookie that year, despite being on his way out. He managed to get 9 home runs and 58 RBIs during his brief time with the Yankees, finishing with a .225 batting average.
In the 1970s, Bobby Cox got his start in the dugout as a coach and manager in the Yankees minor league system and managing in Venezuela. He was the first base coach on the World Series Champion 1977 Yankees.
As manager, Cox started with the 1978 Braves before moving to Toronto. His first stint in Atlanta wasn't very successful overall (266-323), but he managed to rebuild a team that would then see some success in the 1980s. He also moved Dale Murphy to the outfield, which probably is the only reason he was eventually able to have a successful career.
In Toronto (355-292), Cox was able to slowly improve the team until they finished first in 1985, eventually losing in the ALCS to the Royals. He then returned to Atlanta as the General Manager, eventually making himself manager in 1990. The next year, after a last place finish, the Braves made it to the World Series. They would make it to the playoffs every year through 2005, an unbelievable accomplishment led mostly by great pitching. Maddux, Glavine, and Smoltz would give Cox one World Series ring in 1995.
The 2006 season would be the first of many bad years, and while the Braves made the playoffs in 2010 and 2012, they haven't been anywhere near as dominant as they were in the 1990s. Cox was a mainstay as important as Chipper Jones in Atlanta, and despite not really having a hot temper, he holds the record for the most ejections - 158. I was at the game on August 14, 2007, when he was ejected for the 132nd time, breaking the previous record held by John McGraw.
Bobby Cox is one of only four managers with more than 2500 victories - he finished with 2504, and a winning percentage of .556. He is also one of only four managers with 2000 victories as manager of one team, and is fourth all time on the managerial wins list. He was named manager of the year four times, and eight times by The Sporting News.
The Braves are one of my favorite teams, owing to the fact that I lived in Atlanta for almost 20 years, through their dynastic period. And they are the team I can associate with the most, as I've seen more games in Atlanta than everywhere else combined. It's only fitting that Bobby Cox is the manager I feature today.