Day 4: A rookie card of one of your favorite players
One card can define so many of this challenge's points. At least five. But I'm not about that. Instead, I'll wrack my brain trying to find unique cards for each post.
Okay, so I have a bunch of favorite players. And I have rookie cards for all but one. But choosing one player for today's story is the tricky part. Some, their stories have been told. Others don't have much of a story. But one that you might not expect is up now: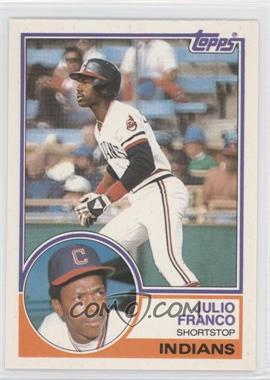 Julio Franco.
By the time I started collecting in 1989, Franco was a veteran. He got his start in 1982, and played all the way until 2007. He played a couple seasons here in Japan and played in Korea, too. Plus, a few seasons were spent in Mexico. And now he's a hitting coach with the Lotte Giants, who play in Busan, South Korea.
He's gotten around in the Major Leagues, playing for the Phillies, Indians, Rangers, White Sox, Indians again, Brewers, Devil Rays, Braves, Mets, and the Braves again. His seasons abroad came after the White Sox (Chiba Lotte Marines, Japan), Brewers (again, Marines), and Devil Rays (Samsung Lions, Korea).
With Texas, he was a three-time All-Star and won the AL MVP Award in 1990. Franco was the batting champion in 1991 and won five Silver Slugger awards.
While a large portion of Franco's playing career didn't happen in the MLB, he has over 4000 hits in professional baseball, and he holds several "Oldest Player" records.
I don't like Franco just because he played for the Braves or that he played here in Japan. It's his longevity and desire to play the game for as long as he could that appeals to me. In 2007, he was sent to single-A ball with the Rome Braves, and I happened to be at one of those games. Seeing a 40-something year old man willing to play with kids half his age - or less - just waiting to get back to the majors is an inspiration for those looking for stick-to-it-ness and hoping to remain young at heart.
By the way, if you're wondering why I'm using COMC card images for these posts, it's because the cards in my collection are on the other side of the world in most cases, so I just don't have access to my physical cards.