A few sets have hit the shelves over the past couple of months, but I've been busy with other things and it wasn't until this week that I finally inventoried everything and put together master lists for all of the releases.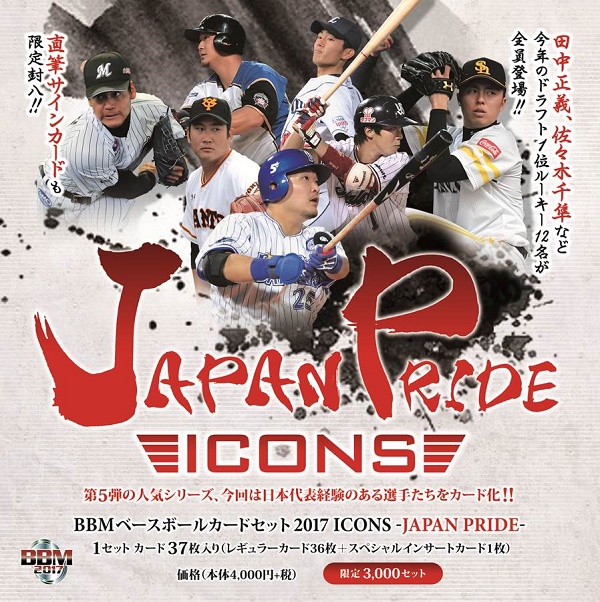 BBM has released an Icons set in the spring for the past few years (this is set number five), each time focusing on a certain theme. I originally didn't care much for the set, but once it became an annual issue it grew on me, and now I grab a set each year. I still don't have my full set from 2017, but I'm sure I'll be able to find it soon enough. Once I actually look for it.
This year's theme is Japan Pride, mainly because of the World Baseball Classic. The set came out in late March. Many of the players featured are on the WBC team. The 36-card base set has three players each from the three teams, including one rookie card per team.
Each 4000-yen box contains a full 36-card base set plus one premium card. 3000 sets were printed.
I don't have an example of the die cut inserts, but there are 5 different cards, each featuring two players. The regular die cuts are numbered to 50, while "Fresh Water" foil parallels are numbered to 15 each. There should be only 325 die cuts in total, making these the rarest cards as a whole when it comes to the premium inserts.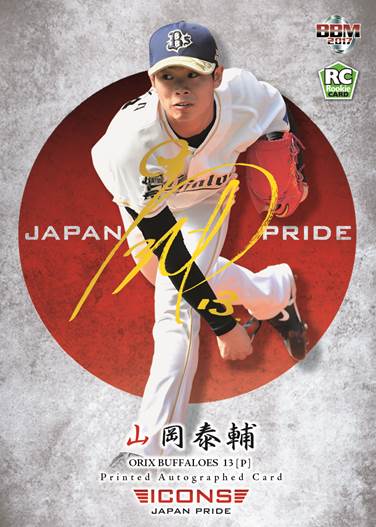 Foil autographs ("Printed Autograph" cards) appear for 18 players, with regular cards having 90 copies each and sky blue foil autographs receiving a 30-card print run each (three players have a 35-card print run). My math says there are 2175 printed autograph cards, definitely making these the most common.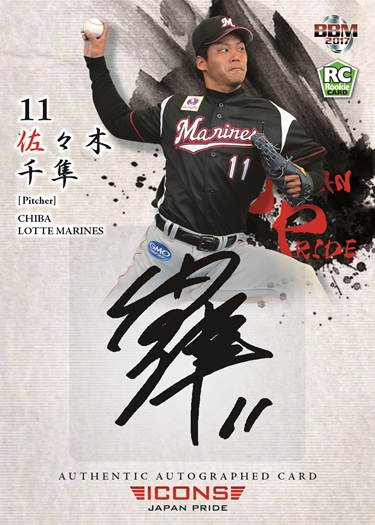 As you'd expect, there are autographs. 29 of the 36 players have sticker autographs with print runs of 10-30 copies each. It looks like only 500 autographs were included, making this box one costly gamble - one in six boxes has an autograph on average.