I'm not a big fan of Topps Chrome. Refractors look awesome, but regular Chrome cards don't appeal to me. The metallic backgrounds just come out muted. The cards feel different: plastic, fake, and artificial. And they're just a copy of the base cards. Topps Finest is more appealing to me thanks to the different design so long as that design is appealing.
But I guess if you blow the cards up to more than double size, it's a whole new story.
I came across a couple cheap lots of Super Chrome cards on YJA over the past month or so, both from the same seller. It turns out that combining the two lots netted me a nearly complete 1999 set and a good start on the 1998s.
Super Chromes were issued only those two years. Both sets came three cards to a pack, 12 packs per box. A full set is 36 cards, but there is a refractor parallel, found one per box, meaning that you definitely didn't get one set in an entire box.
The cards measure 4x6, which is a little larger than two cards side by side. They have a bit of curl now, but it's manageable. Here is my complete set: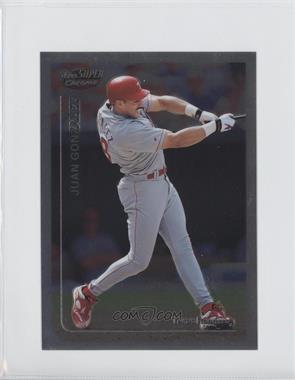 Card 8. This scan comes from COMC, since I was missing this one card for a full set. I got more than 36 cards, so I have some duplicates. But there was no Juan Gonzalez in the lot. A quick purchase later and my set was complete.
Cards 33-36. All of these are season highlights too, of sorts. Cards 34 and 35 commemorate McGwire and Sosa breaking Roger Maris's home run record. The backs have head shots of both the player on the front and Maris. The final card is about the 1998 World Series.
While you can go after the refractor set, there isn't much to this issue - no rookies or inserts - so it's kind of boring. Other than having giant cards. That said, now that I have the 1999 set, I'll be adding the 1998 set to my want list. As I said, I have a good start thanks to the mixed lot. Singles on COMC are expensive thanks to their oversize handling charges but there are other means to finding these cards.
What are your thoughts on this set, and Chrome in general?